by September 18, 2019September 18, 2019 12:37 pm EDT
|
Farfetch'd is an original character in Pokémon games, but you might not recognize its evolutionary form.
Meet Sirfetch'd, who will debut in Pokémon Sword and Shield later this year. It's an evolutionary form of the bird-based character known for carrying a leek stalk. Between the name and its appearance, there's no doubt Sirfetch'd takes on a more mature, bulkier appearance.
Its leek stalk remains, and the weapon is longer and sharper than ever, acting as a lance. Thick leaves, meanwhile, make up its shield. The character put on some weight, too. While its old self weighed in at about 33lbs, Nintendo says Sirfetch'd is 258lbs. Sirfetch'd is ready for combat with its size and equipment. As the kids like to say, he's 'thicc.'
Goodbye, Farfetch'd. Hello, Sirfetch'd.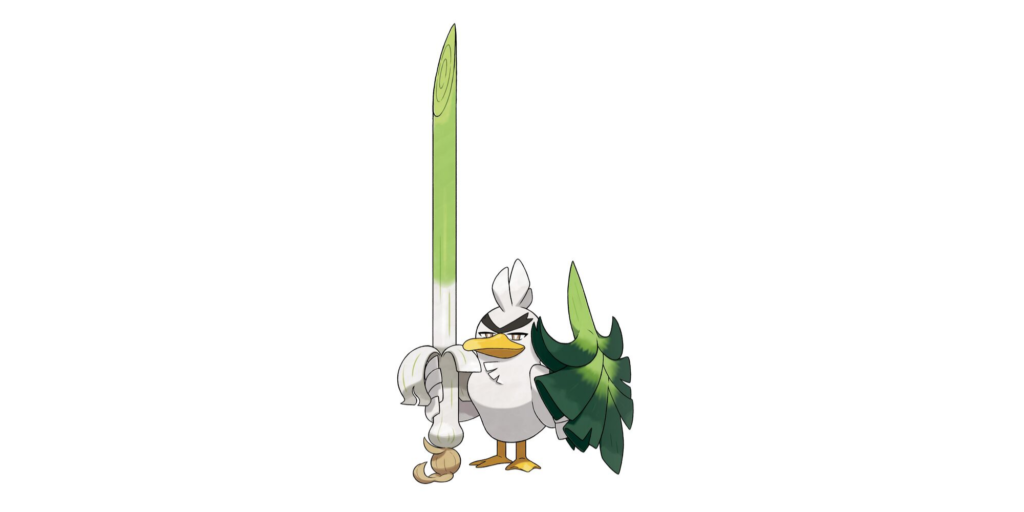 Just look at its smug face. You know there's some serious damage about to be dished out. Sometimes, big things come in small packages.
Sadly, the character won't be available in both editions. It'll arrive on Pokémon Sword only. So, there must be another evolutionary form for Farfetch'd or another character as an exclusive on Pokémon Shield. The entire Galar region, however, will also include a large number of other characters existing in Pokémon Sword and Shield together. Expect an abundance of old and new characters as you try to catch 'em all.
Pokémon Sword and Shield will be released on Friday, November 15.
Fun Jug Media, LLC (operating TheNerdy.com) has affiliate partnerships with various companies. These do not at any time have any influence on the editorial content of The Nerdy. Fun Jug Media LLC may earn a commission from these links.