by September 18, 2019September 18, 2019 8:30 am EDT
|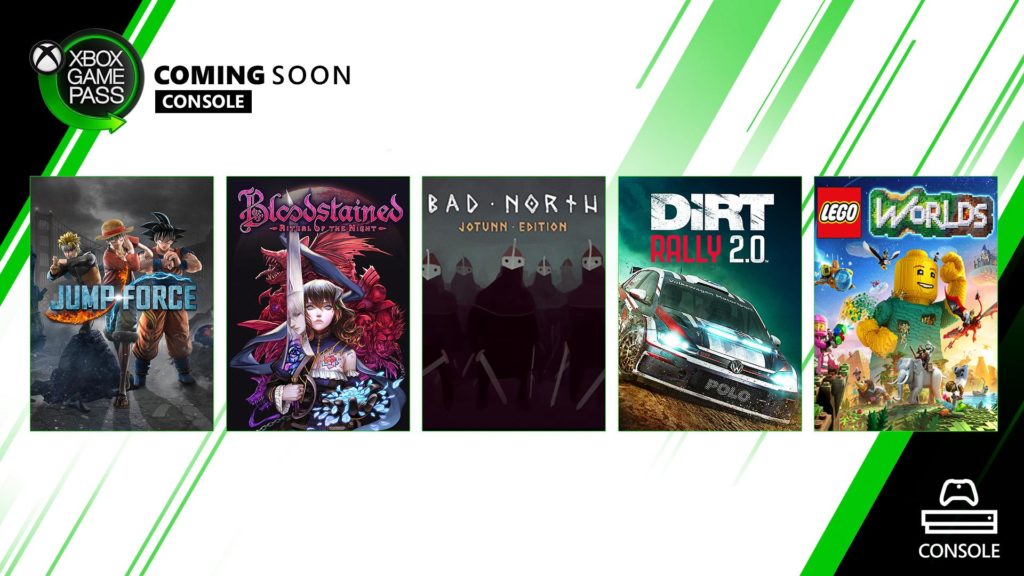 Microsoft's Xbox Game Pass will expand again through the end of this month.
In a blog post, it was confirmed that there are five additional titles getting included in the subscription-based service. Most of them are Xbox One X Enhanced to leverage the top-of-the-line model's capabilities, but they'll be offered on the Xbox One and the Xbox One S as well.
Here's the entire list of games and their arrival dates:
Jump Force (September 19)
Bloodstained: Ritual of the Night (September 19)
Bad North (September 26)
DiRT Rally 2.0 (September 26)
LEGO Worlds (September 26)
Xbox Game Pass turned out to be one of the best values in gaming. You get access to over 100 games for only $9.99/mo, and there's also a PC-only plan at the same price. Both will get you into a vast catalog of games on either platform. If you want both, Xbox Game Pass goes for $14.99/mo but includes Xbox Live Gold as well.
First-party games on Xbox One and Windows are locked into the program, and thus it pays for itself as long as you'd purchase at least two of them if the subscription didn't exist. Microsoft also lets third-party games enter, but they could disappear at a later date. Still, there's an option to purchase them at a reduced price. You won't find another subscription in the gaming industry quite like this.
If you're interested, Microsoft sells Xbox Game Pass through its online store and retail partners like Amazon.
Fun Jug Media, LLC (operating TheNerdy.com) has affiliate partnerships with various companies. These do not at any time have any influence on the editorial content of The Nerdy. Fun Jug Media LLC may earn a commission from these links.