by August 27, 2019August 27, 2019 9:30 am EDT
|
While it may feel like all of the attention is on Disney Plus at the moment, the company isn't completely ignoring its other outlets. Amidst all of the excitement of D23, one story that slipped by somewhat unnoticed was an upcoming animated series.
Laurence Fishburne (black-ish, The Matrix)  is producing an animated series of Moon Girl and Devil Dinosaur for the Disney Channel.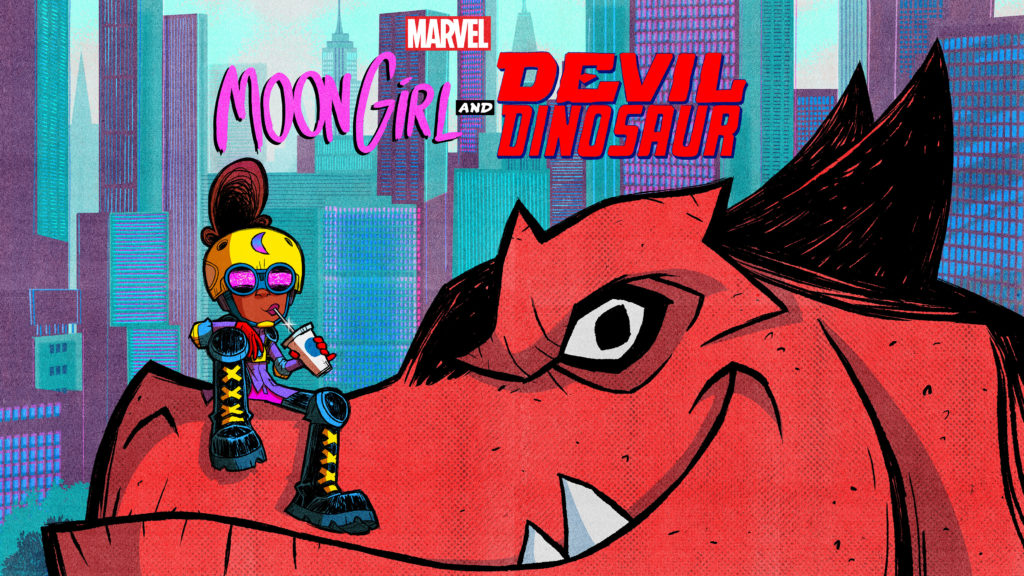 If you had told me in 1978 when I saw Devil Dinosaur in the spinner racks it would some day be a cartoon, I would have laughed at you (or run away in fear of Stranger Danger since I was 7). But, here we are.
Created by Jack Kirby in 1978, Moon-Boy and Devil Dinosaur were a riff on Kirby's own Kamandi series for DC. There was talk of that going to cartoons, so Marvel wanted its own version, but this time with a dinosaur. The series ran for only nine issues, and after that Devil somewhat fell into obscurity becoming more of a punchline than anything else.
The character came back to comics in a new series in 2016 and received a new partner in the form of Lunella Lafayette, a.k.a. Moon Girl. Moon-Boy still appears, but is not a prominent role.
Now, Fishburne, who is a well-known comic fan, is producing the new animated series that will bring Devil out of being a former punchline into the mainstream. Will audiences take to the idea? We'll just have to wait and see.
---