by October 16, 2021October 16, 2021 10:30 am EDT
|
Welcome to an exciting year-long project here at The Nerdy. 1981 was an exciting year for films giving us a lot of films that would go on to be beloved favorites and cult classics. It was also the start to a major shift in cultural and societal norms, and some of those still reverberate to this day.
We're going to pick and choose which movies we hit, but right now the list stands at nearly three dozen.
Yes, we're insane, but 1981 was that great of a year for film.
The articles will come out – in most cases – on the same day the films hit theaters in 1981 so that it is their true 40th anniversary. All films are also watched again for the purposes of these reviews and are not being done from memory. In some cases, it truly will be the first time we've seen them.
This time around it's Oct. 16, 1981, and we're off to see My Dinner with Andre, Just Before Dawn, The Evil Dead, and All the Marbles!
Quick side note: Since we launched this series this year, we've discovered that Vintage Video Podcast is doing the exact same project with two differences: First, it's audio (naturally), and second, they are doing every major film. We've listened to numerous episodes and it's fun checking off their thoughts against my own. Check them out over at Vintage Video Podcast.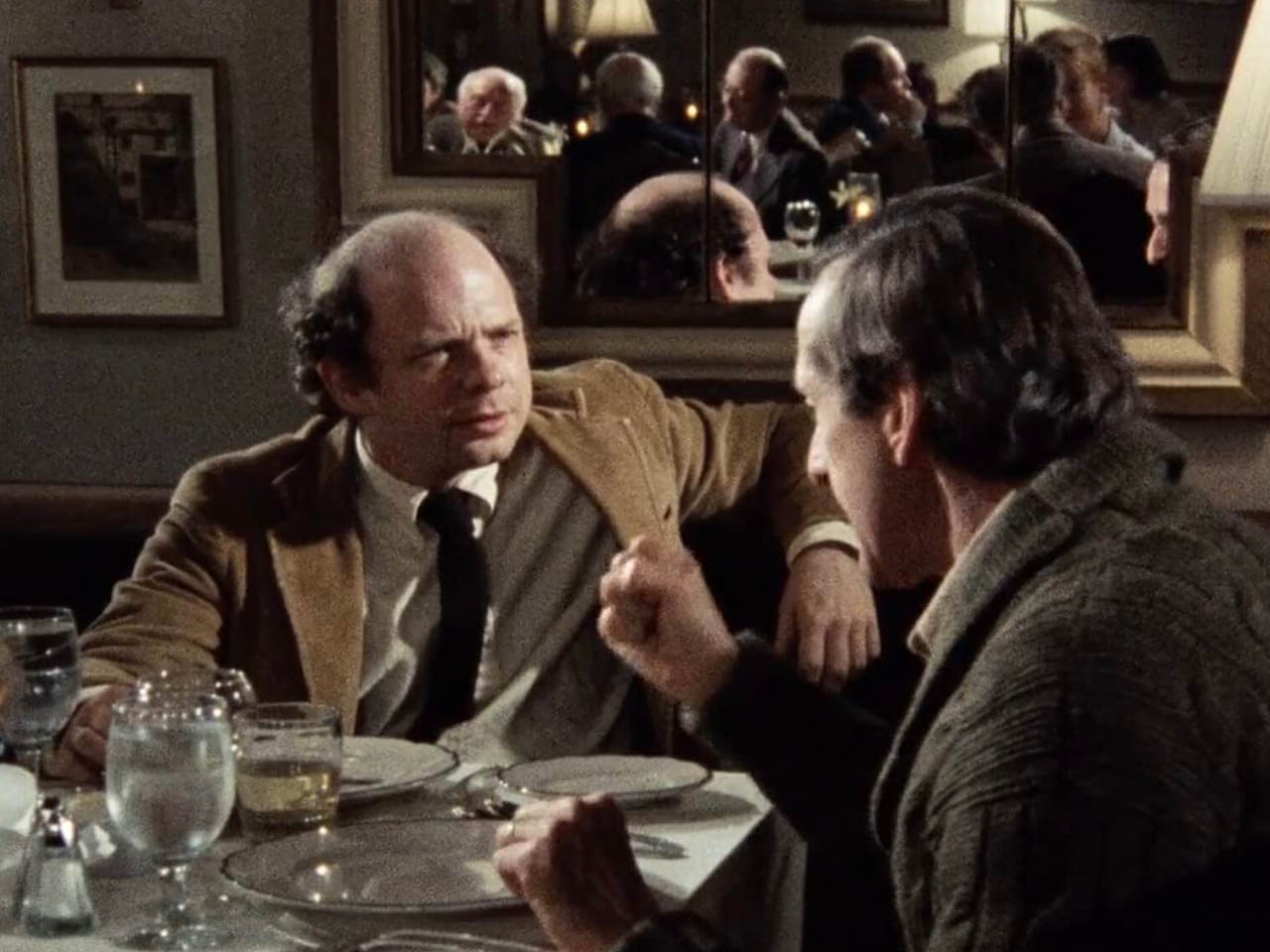 My Dinner With Andre
My Dinner With Andre is one of those movies I've always heard about but just never felt a burning desire to check out. A two-hour movie of two people just having a conversation over dinner? It certainly didn't seem that enticing.
And I'm here to say I was terribly wrong.
Wallace Shawn plays "Wally" and he heads off to have dinner with an old acquaintance, Andre Gregory as Andre. Wally is a down on his luck actor who watches every penny, and Andre is a successful stage director who has had an endless series of adventures. And as he regales Wally with tales of his adventures of leading Polish people in a forest on acting exercises, or any of his other foreign adventures, here is Wally who can't even afford a taxi.
And as the movie plays on, I found myself coming to strongly dislike Andre, and thinking if I was at this dinner I would have asked for the check long ago. His complete unreliability to the vast majority of people is stunning, and my mind kept wandering to how Wally must feel. And while he is always polite, and tries to engage, it is clear these men have so little in common.
And on one hand, do you really want to watch a two-hour uncomfortable conversation? And the answer is no, unless it's in a movie, and then it seemed riveting. This film is so odd, so peculiar in how it could grip me as hard as it did as two men merely have dinner and discuss their lives and craft.
The film is engrossing and wholly unlike anything else I've really seen. It's worth watching just for its uniqueness.
Just Before Dawn
The early 1980s were rife with slasher films, and I can confidently say, Just Before Dawn is one of them.
I've seen a lot of praise for Just Before Dawn over the years, and having finally watched it, I'm not sure why. It is a slog.
After an initial kill, you spend almost an hour waiting for anything to happen. You watch a bunch of people heading up to camp despite multiple people warning them that they should turn around. And once the story does pick back up, you never learn anything about why. It ends up being just backwoods killers that you never learn anything about.
In a landscape of endless slasher films in this time period, there is just nothing about this one to make it stand out. If you feel like being bored senseless, give it a go.
The Evil Dead
From the mind-numbing dullness of Just Before Dawn we move on to the classic, and career-launching The Evil Dead.
The number of talented people behind the camera – as well as one big name in front of it – that came out of this low-budget horror movie is truly amazing. From Sam Raimi becoming a celebrated director to Bruce Campbell becoming one of the most entertaining actors in Hollywood, this movie had a bit of everything going for it.
The plot is… threadbare. Let's face it. Old cabin… a haunted book that causes people to become possessed and kill. There really was nothing that new in this story, but it was the way they executed it. From the level of special effects to the directing, to Campbell's acting, there is a lot to take in in this film, and it's an important one in the lexicon of the horror genre. It set a bar that many others had to sept up to try to meet, and its influences could be felt for years to come. It's hard to imagine there would have been A Nightmare on Elm Street or Scream for that matter without The Evil Dead.
It's not just worth a watch, it's a must watch for anyone diving into horror or the 1980s in general.
All the Marbles
I had mixed feelings about All the Marbles going in. While I enjoyed the series GLOW, that was through a 21st century lens looking back at the 1980s. How would a film actually made in the 80s handle the concept of female wrestling?
A lot better than I ever anticipated.
The story follows Peter Falk as Harry, a wrestling manager for the work-a-day California Dolls tag team. They travel all over the country and have to scarpe for every dollar they have. Laurene Landon's Molly has a prescription drug problem, while Vicki Frederick's Iris has her own, less visible demons she is fighting.
All the Marbles dives into the world of sexplotation a few times, a problem common at this time in films, but you quickly realize that's the actual comment it's trying to make. The girls get tricked into a mud wrestling match, one that neither of them wants to do, but when they see that it will make them $500, it's just too much to pass up. Neither woman walks away from the evening feeling good about themselves, and the disappointment is obvious on Harry's face even as the match continues.
The film detours into a road movie at times, and a sports movie at others, but the core of it is most definitely the world of people just trying to get by.
I went in expecting to hate All the Marbles and walked away finding myself thinking about it several days later. It's a creeper and may be in the running for one of my favorite discoveries of 1981.
The 1981 movie reviews will return on Oct. 23 with Galaxy of Terror, Nightmare, and The Pit!
Fun Jug Media, LLC (operating TheNerdy.com) has affiliate partnerships with various companies. These do not at any time have any influence on the editorial content of The Nerdy. Fun Jug Media LLC may earn a commission from these links.
---