Moji the Lovable Labradoodle is heading to stores this year, and he looks as close to real as possibly any toy dog ever.
We first got our first look at Moji the Lovable Labradoodle at Toy Fair 2020, where we learned all about how the toy was based on the real-life Labradoodle that belongs to Skyrocket's CEO. We were impressed when we saw him back then, but the refinements of another year of work are obvious and we can't wait to see this guy on store shelves.
Moji is a soft, cuddly furball that responds to your voice and touch with over 150 unique reactions.
Moji's smart collar features a color screen that displays animated emojis that communicates his puppy thoughts. From feeling super excited to needing to go potty, you'll always know what Moji is feeling!
Tail-wagging, head-tilting, and learning a dozen tricks like "High Five!" and "Speak!" are just a few of the qualities that make Moji so life-like.
Included are three physical accessories (2-sided bowl, chew rope, and grooming brush) that Moji recognizes and interacts with to help amp up roleplay and deepen your connection with your furry friend.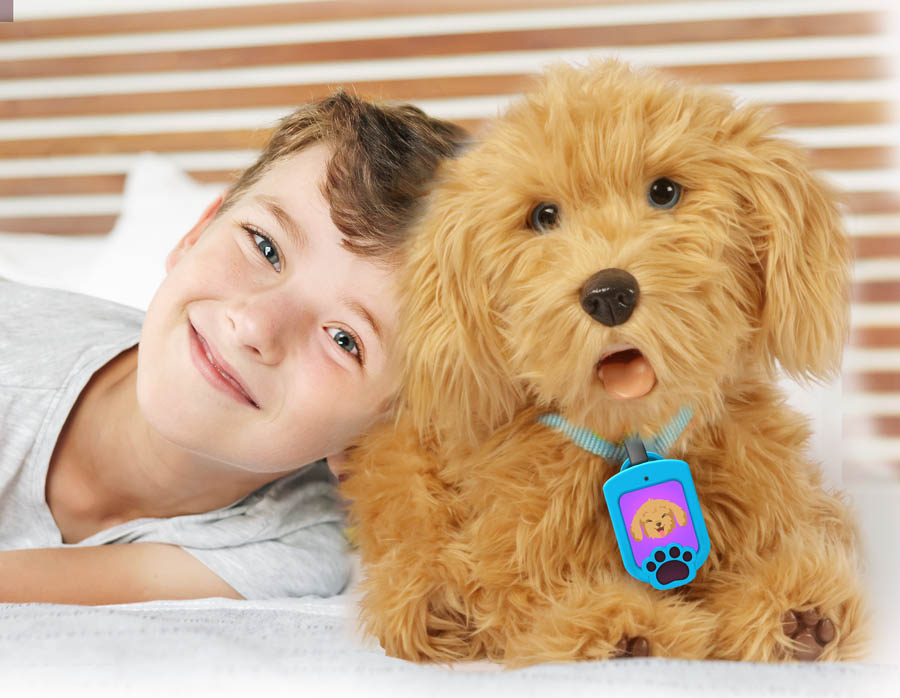 The Nerdy is very dog-friendly, and we think Moji may need to join our pack.
Moji the Lovable Labradoodle will be hitting store shelves in fall 2021 and will retail for $99.99.
---