by June 3, 2023June 3, 2023 10:55 am EDT
|
Welcome to an exciting year-long project here at The Nerdy. 1983 was an exciting year for films giving us a lot of films that would go on to be beloved favorites and cult classics. It was also the start to a major shift in cultural and societal norms, and some of those still reverberate to this day.
We're going to pick and choose which movies we hit, but right now the list stands at nearly four dozen.
Yes, we're insane, but 1983 was that great of a year for film.
The articles will come out – in most cases – on the same day the films hit theaters in 1983 so that it is their true 40th anniversary. All films are also watched again for the purposes of these reviews and are not being done from memory. In some cases, it truly will be the first time we've seen them.
This time around, it's June 3rd, 1983, and we're off to see The Man With Two Brains, Psycho II, and WarGames!
Quick side note: Since we launched this series this year, we've discovered that Vintage Video Podcast is doing the exact same project with two differences: First, it's audio (naturally), and second, they are doing every major film. We've listened to numerous episodes and it's fun checking off their thoughts against my own. Check them out over at Vintage Video Podcast.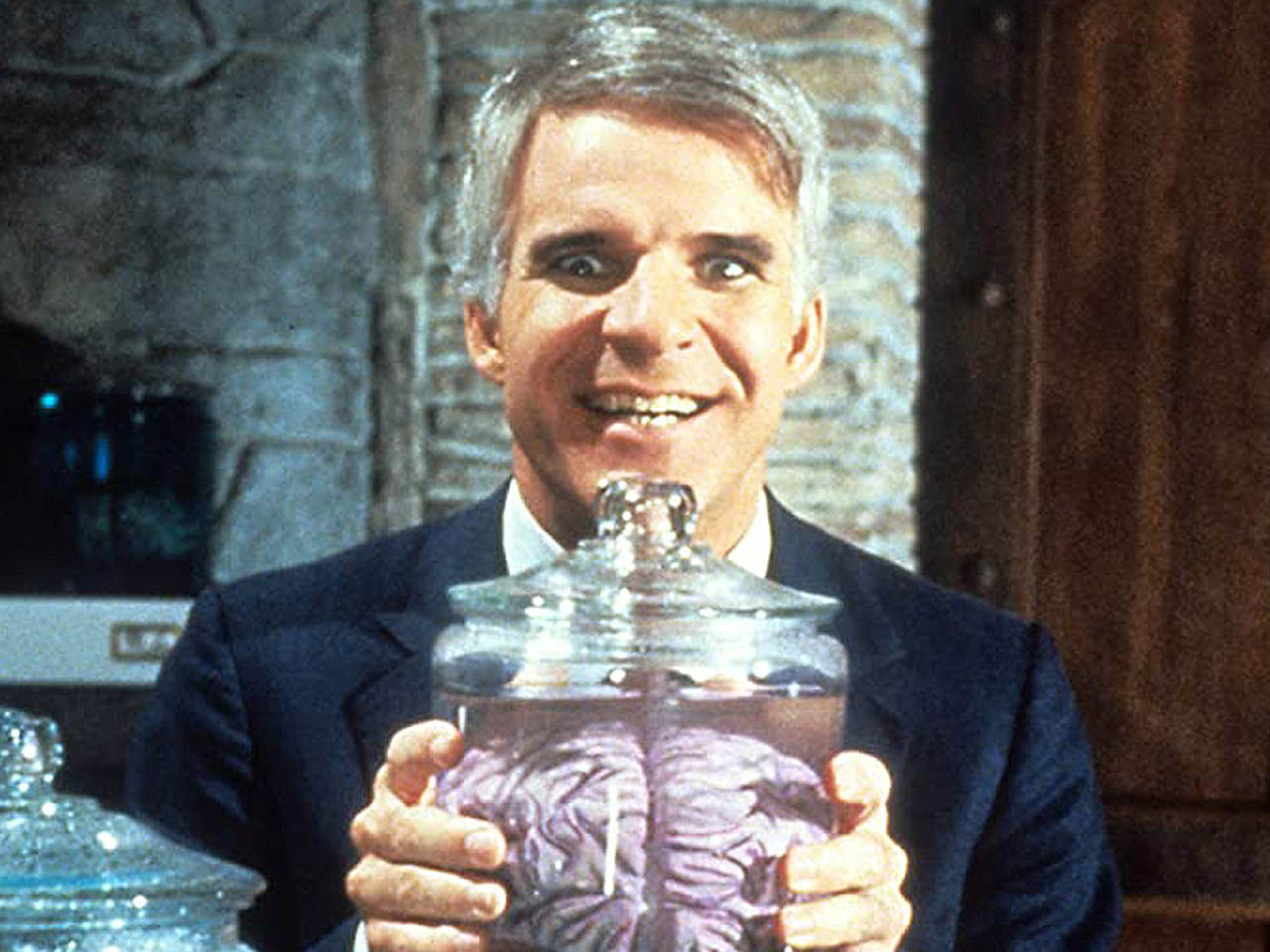 The Man With Two Brains
Steve Martin was on a tear in the early 1980s. It seemed the man was everywhere, and there was just no stopping him. And sometimes you have to wonder what he saw in a project that you didn't.
Martin plays Dr. Michael Hfuhruhurr (don't ask), a brilliant brain surgeon who lost his wife years ago. After a fateful accident with Dolores Benedict (Kathleen Turner), he falls for the femme fatale, not knowing she's only after his money. Later, however, he falls for Anne Uumellmahaye (an uncredited Sissy Spacek), a bodiless brain that can communicate only with him. Once he has figured out Dolores isn't the one for him, his only goal is to get Anne into a body so they can be together.
While I enjoy Martin's work in general, The Man With Two Brains is just wildly uneven. It constantly vacillates between a standard comedy into a farce along the lines of Airplane!. Carl Reiner directed along with co-writing the film with Martin and David Warner. I think this ended up being a project with just too many ideas and no one willing to tell them "Maybe stop here…"
Despite its overstuffed nature, it's still a fun movie at times, but just don't expect it to be high on your list of Martin favorites.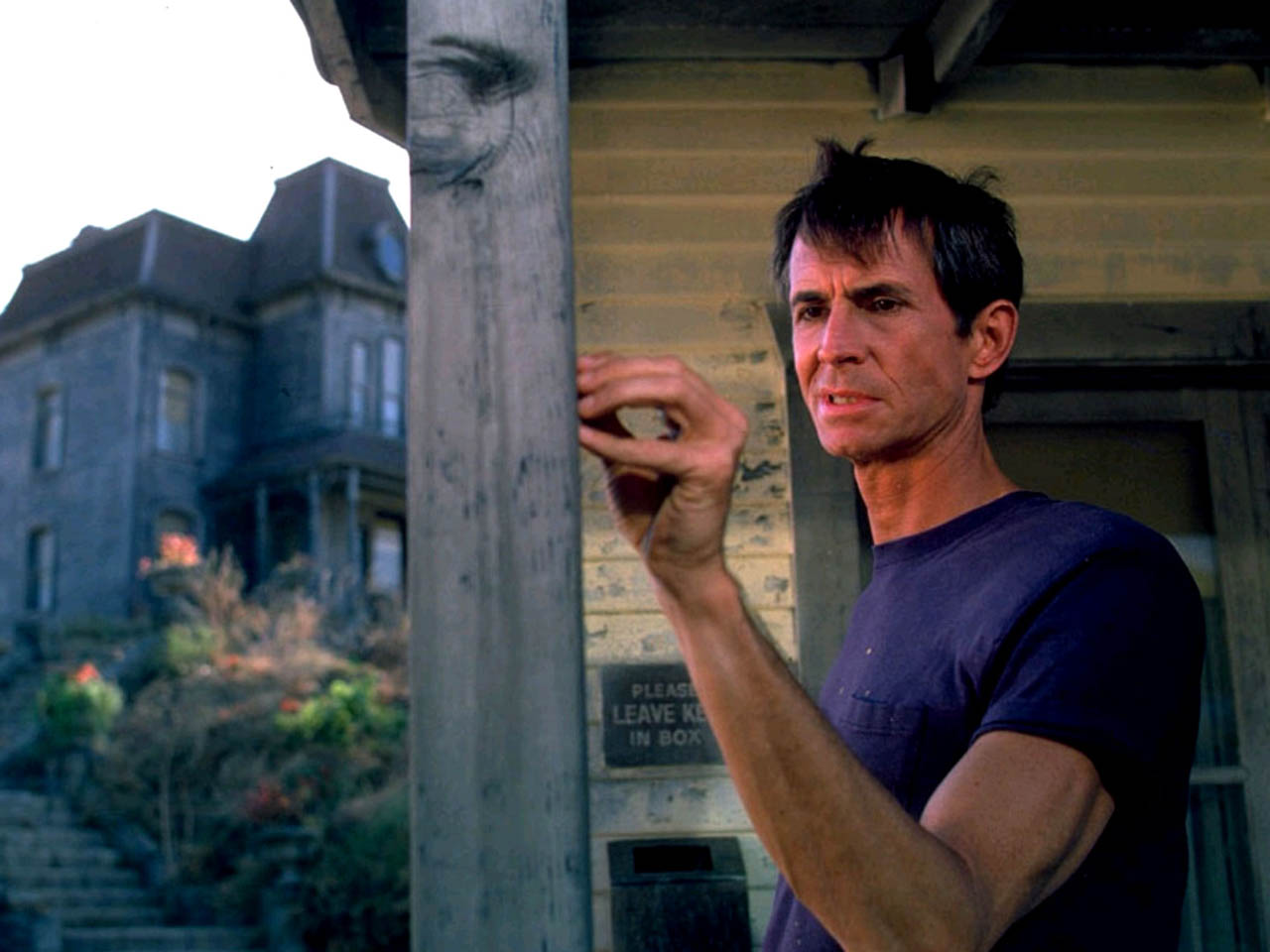 Psycho II
If you thought legacy sequels were a new phenomenon, let me introduce you to Psycho II
Set 22 years after the events of the first film, Psycho II sees Norman Bates (Anthony Perkins) released from the mental hospital to return home to the house from the original film. Once there, he gets a job at the local diner, where he meets Mary (Meg Tilly), a down-on-her-luck waitress to whom Norman eventually offers a spare bedroom to. It later turns out that Mary is the niece of Marion Crane, the famous victim of the original film. Her mother, Lila (Vera Miles) has come up with a plan to get Norman recommitted, but things don't go quite as they had hoped.
This is a film that I know I had seen, but I had almost completely forgotten it. Psycho is one of my favorites, so I went in with some trepidation watching this one again, and, I have to say, it works. This feels like a very natural extension of what happened with Norman in the first film. No matter how much therapy someone as broken as Norman was received, the likelihood of him being successfully thrust back into society were slim to begin with. Introduce people who have a gripe with him, and the odds go down even further.
I did think the introduction of his 'real' mother was a bit off, but even it still worked for the most part.
The growing 'slasher' genre was clearly at least somewhat of an influence on the film, but it still works. It's far from the heights of the original, but the film still works.
WarGames
Anyone with a passing interest in computers was in the theater for WarGames in 1983. Home computing was just starting to take off, and this 11-year-old with his Commodore 64 was sure he was going to get to Joshua at some point (I just didn't have a modem yet).
David Lightman (Matthew Broderick) has one thing on his mind: Computers. Well, and Jennifer Mack (Ally Sheedy). When those two things collide thanks to some bad grades, who knew it could potentially start a nuclear war.
WarGames came at an interesting time in the history of computing. A small group of people had home computers, and people were beginning to wonder about the dangers of them. A cycle we have seen repeated with technology for decade after decade. WarGames found a new twist, however, by bringing in the concept of the Cold War, and making it into a thriller. Believe me, working with computers for decades now, there is nothing close to a thriller about my existence.
At nearly two-hours in length, the film is tight and flies by. You're stunned with how short it actually feels. The movie holds up, and holds up well 40 years later.
1983 Movie Reviews will return on June 10, 2023 with Trading Places and Octopussy!
Fun Jug Media, LLC (operating TheNerdy.com) has affiliate partnerships with various companies. These do not at any time have any influence on the editorial content of The Nerdy. Fun Jug Media LLC may earn a commission from these links.
---