by May 27, 2023May 27, 2023 10:30 am EDT
|
Welcome to an exciting year-long project here at The Nerdy. 1983 was an exciting year for films giving us a lot of films that would go on to be beloved favorites and cult classics. It was also the start to a major shift in cultural and societal norms, and some of those still reverberate to this day.
We're going to pick and choose which movies we hit, but right now the list stands at nearly four dozen.
Yes, we're insane, but 1983 was that great of a year for film.
The articles will come out – in most cases – on the same day the films hit theaters in 1983 so that it is their true 40th anniversary. All films are also watched again for the purposes of these reviews and are not being done from memory. In some cases, it truly will be the first time we've seen them.
This time around, it's May 27th, 1983, and we're off to see Return of the Jedi!
Quick side note: Since we launched this series this year, we've discovered that Vintage Video Podcast is doing the exact same project with two differences: First, it's audio (naturally), and second, they are doing every major film. We've listened to numerous episodes and it's fun checking off their thoughts against my own. Check them out over at Vintage Video Podcast.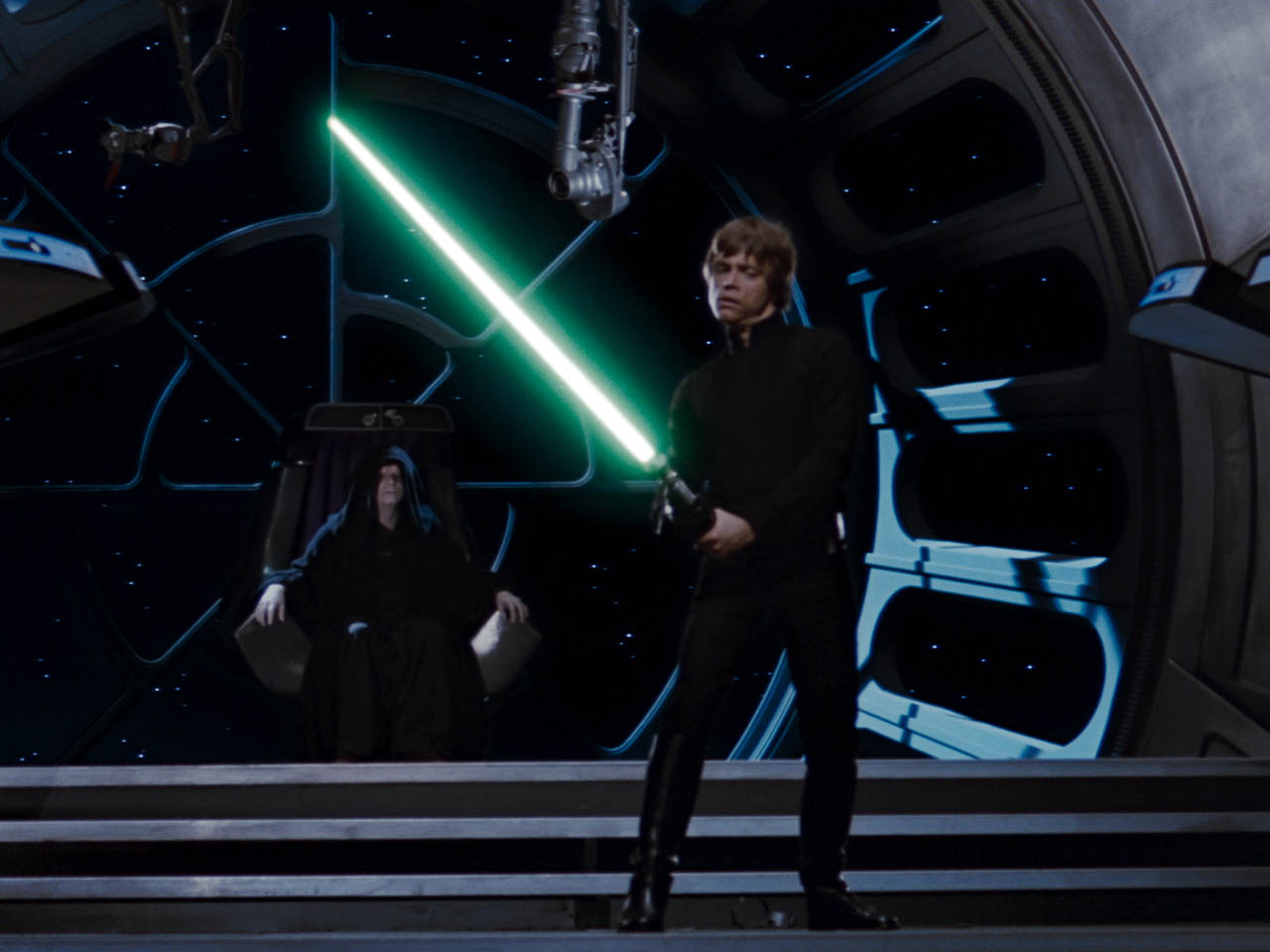 Return of the Jedi
It didn't dawn on me until I sat down to watch Return of the Jedi that some genius released Spacehunter this close to one of the most anticipated movies of the 1980s. Super smart.
While I love Star Wars in general, I've never been a gigantic fan of Return of the Jedi. I was never quite able to put my finger on why, but I think I finally grasped it on this viewing: We spend far too much time on Tattooine dealing with Jabba.
Clearly, there was no choice but to go and rescue Han (Harrison Ford), considering how he ended up in The Empire Strikes Back, but it just eats up so much of the film that was bringing the trilogy to a close.
And then there is the other issue of a second Death Star. This actually didn't sit well with me in 1983 despite me being 11 at the time, and it really doesn't sit well with me now. This had been such an inventive series of films up to this point, and the conclusion of the trilogy was to fight the exact same super weapon, just slightly larger, that we had just two movies prior. It could have at least been a different shape,  a different name, or anything. Instead, it's… the same.
This, of course, isn't to say everything about Return of the Jedi is bad, far from it. It just suffers from a lack of originality within the series itself, and some severe pacing issues early in the story. It's no wonder it's my least viewed film of the original trilogy. It's hard to believe we lived with this for 16 years just to get to The Phantom Menace. We'll deal with that in 2039, though.
1983 Movie Reviews will return on June 3, 2023 with The Man With Two Brains, Psycho II, and WarGames!
Fun Jug Media, LLC (operating TheNerdy.com) has affiliate partnerships with various companies. These do not at any time have any influence on the editorial content of The Nerdy. Fun Jug Media LLC may earn a commission from these links.
---