by May 20, 2023May 20, 2023 10:30 am EDT
|
Welcome to an exciting year-long project here at The Nerdy. 1983 was an exciting year for films giving us a lot of films that would go on to be beloved favorites and cult classics. It was also the start to a major shift in cultural and societal norms, and some of those still reverberate to this day.
We're going to pick and choose which movies we hit, but right now the list stands at nearly four dozen.
Yes, we're insane, but 1983 was that great of a year for film.
The articles will come out – in most cases – on the same day the films hit theaters in 1983 so that it is their true 40th anniversary. All films are also watched again for the purposes of these reviews and are not being done from memory. In some cases, it truly will be the first time we've seen them.
This time around, it's May 20th, 1983, and we're off to see Spacehunter: Adventures in the Forbidden Zone!
Quick side note: Since we launched this series this year, we've discovered that Vintage Video Podcast is doing the exact same project with two differences: First, it's audio (naturally), and second, they are doing every major film. We've listened to numerous episodes and it's fun checking off their thoughts against my own. Check them out over at Vintage Video Podcast.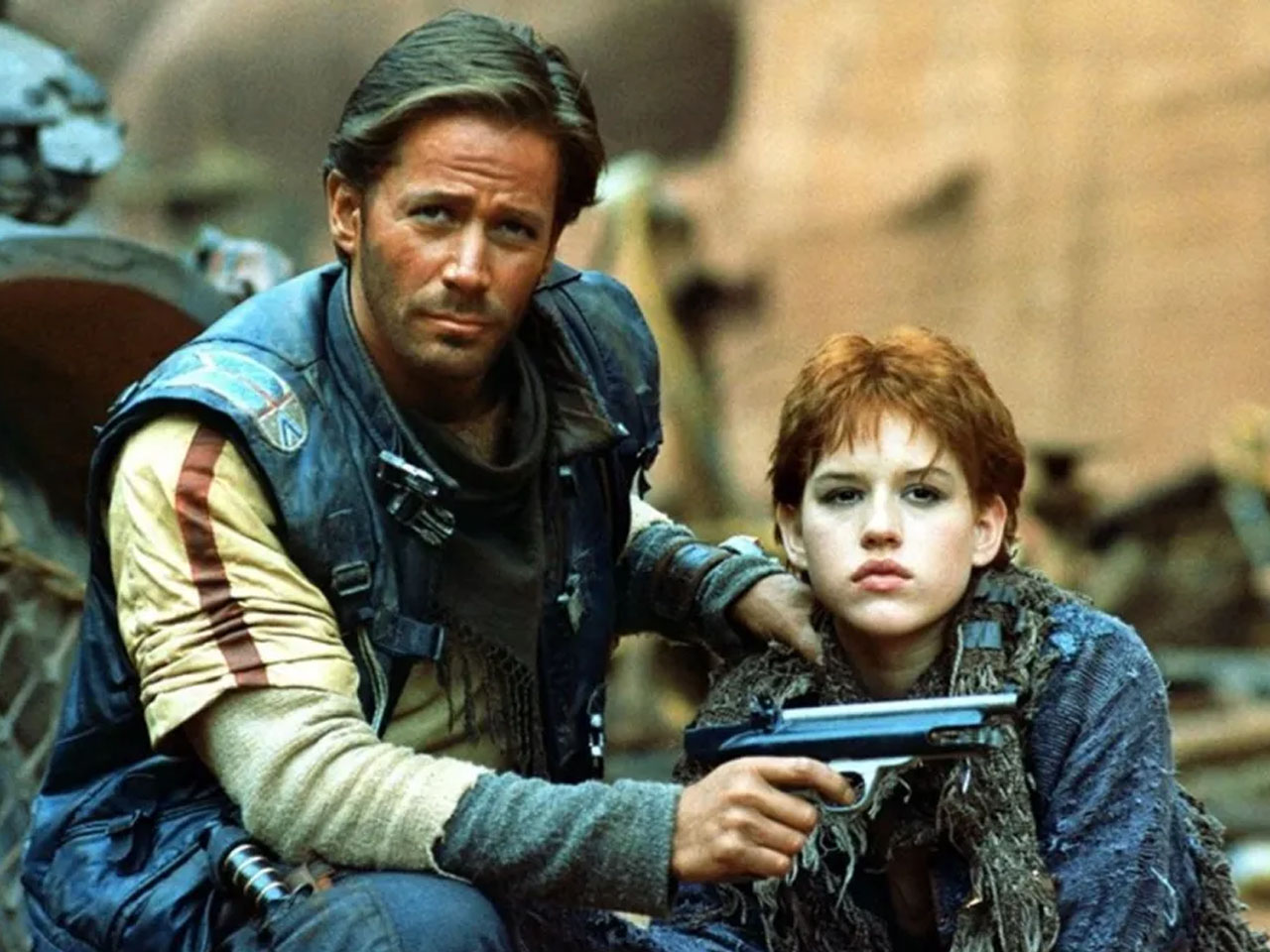 Spacehunter: Adventures in the Forbidden Zone
The early 1980s were a weird time for science fiction. Everyone was still hunting for that next Star Wars, and if that meant turning every Western trope into a sci-fi setting, then by golly, someone would do it.
As we already saw with Battle Beyond the Stars – which followed the story of The Seven Samurai/The Magnificent Seven – Spacehunter goes for the old, "Civilized people captured by the natives, a cowboy goes to rescue them for money, picks up a kid along the way" storyline. Except… in space… kinda. Other than a very brief bit at the beginning of a couple of spaceships, this film is very firmly centered on a planet. Even within moments of Wolff (Peter Strauss) arriving on the planet, he gets involved in a train heist that sees the three women he is trying to rescue being captured.
Despite its very obvious nods to Westerns, Spacehunter is not a bad movie. It's not exactly a good movie, either, but it's entertaining and fun watch. It's also worth keeping in mind that the film was originally released in 3D and there are a few of those "ooooh look, we're poking something at the camera!" moments, but it's not nearly as distracting as say Treasure of the Four Crowns was.
And, yes, Spacehunter also features a very young Molly Ringwald before she became John Hughes' muse for three films.
You won't hate yourself for watching Spacehunter so long as you go into it with your expectations in check.
1983 Movie Reviews will return on May 27, 2023 with Spacehunter: Return of the Jedi!
Fun Jug Media, LLC (operating TheNerdy.com) has affiliate partnerships with various companies. These do not at any time have any influence on the editorial content of The Nerdy. Fun Jug Media LLC may earn a commission from these links.
---