by September 9, 2023September 9, 2023 10:30 am EDT
|
Welcome to an exciting year-long project here at The Nerdy. 1983 was an exciting year for films giving us a lot of films that would go on to be beloved favorites and cult classics. It was also the start to a major shift in cultural and societal norms, and some of those still reverberate to this day.
We're going to pick and choose which movies we hit, but right now the list stands at nearly four dozen.
Yes, we're insane, but 1983 was that great of a year for film.
The articles will come out – in most cases – on the same day the films hit theaters in 1983 so that it is their true 40th anniversary. All films are also watched again for the purposes of these reviews and are not being done from memory. In some cases, it truly will be the first time we've seen them.
This time around, it's September 9th, 1983, and we're off to see Streamers.
Quick side note: Since we launched this series this year, we've discovered that Vintage Video Podcast is doing the exact same project with two differences: First, it's audio (naturally), and second, they are doing every major film. We've listened to numerous episodes and it's fun checking off their thoughts against my own. Check them out over at Vintage Video Podcast.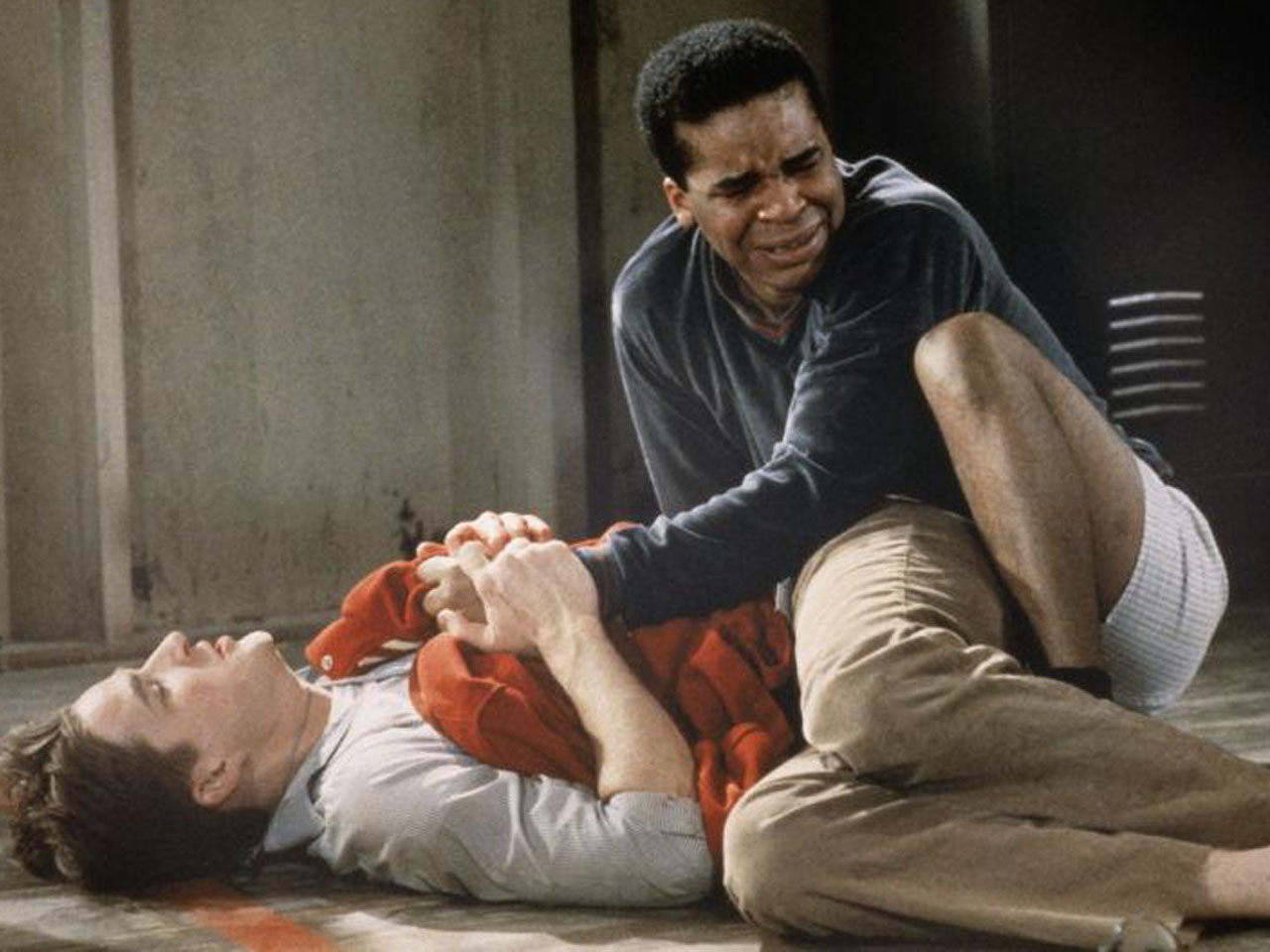 Streamers
Too often when a director tries to turn a play into a film, we see them go bigger. They expand the number of locations. They indulge in the freedoms not afforded to the story by the constrictions of a stage. It seems that Robert Altman understood there were other reasons for those restrictions.
Streamers tells the stories of three paratroopers awaiting deployment to Vietnam during the war. Billy (Matthew Modine) is your stereotypical bright-eyed, middle-America boy, Roger (David Alan Grier) is an African-American excited by the opportunities, and Richie (Mitchell Lichtenstein) is here due to lack of options. There is an additional recruit, Carlyle (Michael Wright), who is destined to be a grunt and is envious of Roger's status and doesn't do much to hide it.
The story follows all of these men, as well as a few of their superiors, in the days leading up to their deployment. As one might suspect from the mix of characters, the story delves into topics such as the horrors of war, racism – both external and internalized – and homophobia of the 1960s. Each topic is handled well and tastefully, and delivers in getting their points across.
Streamers is a tough one to rate. It is filled with brilliant performances to a man, but at the same time, I kept expecting a character from Come Back to the Five and Dime, Jimmy Dean, Jimmy Dean to walk into the barracks at any moment. The only thing in common between the two films is Altman's directing, and perhaps it's the style of line delivery he prefers, but while it fits the previous film, it felt less natural here. While the topics suit these characters of men waiting to go to a war zone they feared, there was an unnatural, nearly uncanny valley nature to the way they expressed themselves.
But despite that, I was riveted from beginning to end. I had never even heard the title of this film – 'streamers' is explained to be slang for paratroopers – before it came up in the rotation, and I'm glad I checked it out. Is it essential viewing for the 1980s? No. But is it a worthy overall watch? Most definitely.
1983 Movie Reviews will return on Sept. 16, 2023 with Heat and Dust, Revenge of the Ninja, Strange Invaders, and Vigilante!
Fun Jug Media, LLC (operating TheNerdy.com) has affiliate partnerships with various companies. These do not at any time have any influence on the editorial content of The Nerdy. Fun Jug Media LLC may earn a commission from these links.
---