Freeform has announced its 31 Nights of Halloween schedule for 2023, and let us just say that if you want to watch Hocus Pocus, you're in luck.
31 Nights of Halloween on Freeform has become a high point of the fall season in the U.S., and it seems the channel is embracing it more than ever this year.
There's a bit more diversity this year than in years past, and we're all for it. Even including some movies that we aren't sure how they qualify as being related to Halloween, but it's providing for a fun lineup.
The festivities kick off on Oct. 1, and we're ready!
Sunday, Oct. 1
7:00 a.m. EDT/PDT – Mrs. Doubtfire
10:10 a.m. EDT/PDT – Scared Shrekless
10:40 a.m. EDT/PDT – Halloweentown
12:45 p.m. EDT/PDT – Goosebumps 2: Haunted Halloween
2:50 p.m. EDT/PDT – The Haunted Mansion (2003)
4:55 p.m. EDT/PDT – Tim Burton's The Nightmare Before Christmas
6:35 p.m. EDT/PDT – Hocus Pocus
8:45 p.m. EDT/PDT – Hotel Transylvania
10:50 p.m. EDT/ PDT – Hotel Transylvania 3: Summer Vacation
1:00 a.m. EDT/PDT – Decorating Disney: Halloween Magic
Monday, Oct. 2
10:30 a.m. EDT/PDT – The Simpsons: Treehouse of Horror
11:00 a.m. EDT/PDT – Goosebumps 2: Haunted Halloween
1:00 p.m. EDT/PDT – Twitches
3:00 p.m. EDT/PDT – Twitches Too
5:00 p.m. EDT/PDT – Shrek Forever After
7:00 p.m. EDT/PDT – Hotel Transylvania
9:00 p.m. EDT/PDT – Hotel Transylvania 3: Summer Vacation
12:00-2:00 a.m EDT/PDT – The Simpsons: Treehouse of Horror episodes
Tuesday, Oct. 3
10:30 a.m. EDT/PDT – Decorating Disney: Halloween Magic
11:30 a.m. EDT/PDT – Twilight: Special Edition
2:30 p.m. EDT/PDT – The Twilight Saga: New Moon
5:40 p.m. EDT/PDT – Hocus Pocus
7:50 p.m. EDT/PDT – Cruella
12:00-2:00 a.m EDT/PDT – The Simpsons: Treehouse of Horror episodes
Wednesday, Oct. 4
10:30 a.m. EDT/PDT – The Twilight Saga: New Moon
1:30 p.m. EDT/PDT – The Twilight Saga: Eclipse
4:30 p.m. EDT/PDT – The Haunted Mansion (2003)
6:30 p.m. – 11:00 p.m EDT/PDT – The Simpsons: Treehouse of Horror marathon
12:00 a.m. EDT/PDT – Halloweentown
Thursday, Oct. 5
10:30 a.m. EDT/PDT – The Twilight Saga: Eclipse
1:30 p.m. EDT/PDT – The Twilight Saga: Breaking Dawn – Part 1
4:00 p.m. EDT/PDT – The House with a Clock in Its Walls
6:30 p.m. EDT/PDT – Monsters, Inc. (Disney-Pixar)
8:30 p.m. EDT/PDT – Monsters University (Disney-Pixar)
12:00 a.m EDT/PDT – Halloweentown II: Kalabar's Revenge
Friday, Oct. 6
10:30 a.m. EDT/PDT – The Twilight Saga: Breaking Dawn – Part 1
1:00 p.m. EDT/PDT – The Twilight Saga: Breaking Dawn – Part 2
3:30-11:00 p.m EDT/PDT – Family Guy episodes
12:00 a.m. EDT/PDT – Little Shop of Horrors (1986)
Saturday, Oct. 7
7:00 a.m. EDT/PDT – ZOMBIES – Freeform Premiere
9:00 a.m. EDT/PDT – ZOMBIES 2 – Freeform Premiere
11:00 a.m. EDT/PDT – Scared Shrekless
11:30 a.m. EDT/PDT – Shrek Forever After
1:30 p.m. EDT/PDT – Tim Burton's The Nightmare Before Christmas
3:10 p.m. EDT/PDT – Hotel Transylvania
5:10 p.m. EDT/PDT – Hocus Pocus
7:20 p.m. EDT/PDT – The Addams Family (1991)
9:25 p.m. EDT/PDT – Addams Family Values
11:30 p.m. EDT/PDT – The House with a Clock in Its Walls
Sunday, Oct. 8
7:00 a.m. EDT/PDT – Scared Shrekless
7:30 a.m. EDT/PDT – Shrek Forever After
9:30 a.m. EDT/PDT – The House with a Clock in Its Walls
12:00 p.m. EDT/PDT – Hotel Transylvania
2:05 p.m. EDT/PDT – Miss Peregrine's Home for Peculiar Children
5:10 p.m. EDT/PDT – The Addams Family (1991)
7:15 p.m. EDT/PDT – Addams Family Values
9:20 p.m. EDT/PDT – Hocus Pocus
11:30 p.m. EDT/PDT – The Craft (1996)
Monday, Oct. 9
10:30 a.m. EDT/PDT – Miss Peregrine's Home for Peculiar Children
1:35 p.m. EDT/PDT – Bewitched (2005)
3:40 p.m. EDT/PDT – The Craft (1996)
6:10 p.m. EDT/PDT – Hocus Pocus
8:20 p.m. EDT/PDT – Maleficent: Mistress of Evil
12:00-2:00 a.m. EDT/PDT – The Simpsons: Treehouse of Horror episodes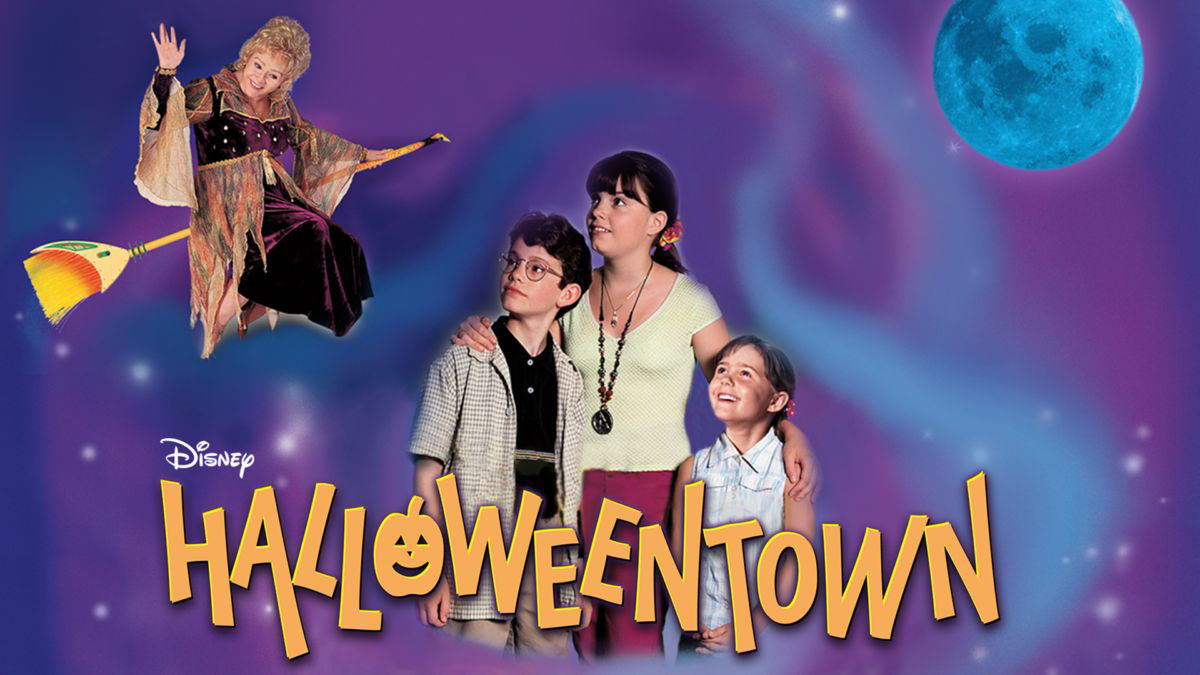 Tuesday, Oct. 10
10:30 a.m.-1:00 p.m. EDT/PDT – Family Guy episodes
1:00 p.m. EDT/PDT – Twilight: Special Edition
4:00 p.m. EDT/PDT – The Twilight Saga: New Moon
7:00 p.m. EDT/PDT – Halloweentown
9:00 p.m. EDT/PDT – Halloweentown II: Kalabar's Revenge
12:00-2:00 a.m. EDT/PDT – The Simpsons: Treehouse of Horror episodes
Wednesday, Oct. 11
10:30 a.m.-1:00 p.m. EDT/PDT – Family Guy episodes
1:00 p.m. EDT/PDT – The Twilight Saga: Breaking Dawn – Part 1
3:30 p.m. EDT/PDT – The Twilight Saga: Breaking Dawn – Part 2
6:00-11:00 p.m. EDT/PDT – The Simpsons: Treehouse of Horror marathon
12:00 a.m. EDT/PDT – Ready or Not
Thursday, Oct. 12
10:30 a.m. EDT/PDT – The Twilight Saga: Breaking Dawn – Part 1
1:00 p.m. EDT/PDT – The Twilight Saga: Breaking Dawn – Part 2
3:30 p.m. EDT/PDT – Mrs. Doubtfire
6:30 p.m. EDT/PDT – Toy Story of TERROR! (Disney-Pixar)
7:00 p.m. EDT/PDT – Hotel Transylvania
9:00 p.m. EDT/PDT – Hotel Transylvania 3: Summer Vacation
12:00 a.m. EDT/PDT – Twitches
Friday, Oct. 13
10:30 a.m. EDT/PDT – Toy Story of TERROR! (Disney-Pixar)
11:00 a.m. EDT/PDT – Tim Burton's The Nightmare Before Christmas
12:35 p.m. EDT/PDT – The Haunted Mansion (2003)
2:35 p.m. EDT/PDT – Hotel Transylvania
4:40 p.m. EDT/PDT – Hotel Transylvania 3: Summer Vacation
6:50 p.m. EDT/PDT – Hocus Pocus
9:00 p.m. EDT/PDT – TBA
10:00 p.m. EDT/PDT – TBA
12:00 a.m. EDT/PDT – Twitches Too
Saturday, Oct. 14
7:00 a.m. EDT/PDT – Mrs. Doubtfire
10:10 a.m. EDT/PDT – Monsters Vs. Aliens: Mutant Pumpkins from Outer Space
10:40 a.m. EDT/PDT – Miss Peregrine's Home for Peculiar Children
1:45 p.m. EDT/PDT – Tim Burton's The Nightmare Before Christmas: Pop 'N Knowledge Edition
3:25 p.m. EDT/PDT – Hocus Pocus: Pop 'N Knowledge Edition
5:35 p.m. EDT/PDT – The Incredibles (Disney-Pixar)
8:15 p.m. EDT/PDT – Incredibles 2 (Disney-Pixar)
10:55 p.m. EDT/PDT – Hotel Transylvania
1:00-2:00 a.m. EDT/PDT – Family Guy episodes
Sunday, Oct. 15
7:00 a.m. EDT/PDT – Miss Peregrine's Home for Peculiar Children
10:05 a.m. EDT/PDT – Twitches
12:10 p.m. EDT/PDT – Twitches Too
2:15 p.m. EDT/PDT – The Haunted Mansion (2003)
4:20 p.m. EDT/PDT – Hotel Transylvania
6:25 p.m. EDT/PDT – Hocus Pocus
8:35 p.m. EDT/PDT – Cruella
11:50 p.m. EDT/PDT – Goosebumps 2: Haunted Halloween
Monday, Oct. 16 – DISNEY 100
10:30 a.m. EDT/PDT – Spider-Man (2002)
1:10 p.m. EDT/PDT – Spider-Man 2 (2004)
4:20 p.m. EDT/PDT – Goosebumps 2: Haunted Halloween
6:25 p.m. EDT/PDT – Monsters, Inc. (Disney-Pixar)
8:30 p.m. EDT/PDT – Monsters University (Disney-Pixar)
12:00-2:00 a.m. EDT/PDT – The Simpsons: Treehouse of Horror episodes
Tuesday, Oct. 17
10:30 am. EDT/PDT – Spider-Man 2 (2004)
1:30 p.m. EDT/PDT – Spider-Man 3 (2007)
4:30 p.m. EDT/PDT – Shrek Forever After
6:30 p.m. EDT/PDT – Toy Story of TERROR! (Disney-Pixar)
7:00 p.m. EDT/PDT – Hotel Transylvania
9:00 p.m. EDT/PDT – Hocus Pocus
12:00-2:00 a.m. EDT/PDT – The Simpsons: Treehouse of Horror episodes
Wednesday, Oct. 18
10:30 a.m. EDT/PDT – Halloweentown
12:30 p.m. EDT/PDT – Halloweentown II: Kalabar's Revenge
2:30 p.m. EDT/PDT – Halloweentown High
4:30 p.m. EDT/PDT – Toy Story of TERROR! (Disney-Pixar)
5:00 p.m. EDT/PDT – Hotel Transylvania
7:00-11:00 p.m. EDT/PDT – The Simpsons: Treehouse of Horror marathon
12:00-2:00 a.m. EDT/PDT – The Simpsons: Treehouse of Horror episodes
Thursday, Oct. 19
10:30 a.m. EDT/PDT – Little Shop of Horrors (1986)
12:35 p.m. EDT/PDT – Mrs. Doubtfire
3:15 p.m. EDT/PDT – Miss Peregrine's Home for Peculiar Children
6:15 p.m. EDT/PDT – Hocus Pocus
8:25 p.m. EDT/PDT – The Sorcerer's Apprentice (2010)
12:00 a.m. EDT/PDT – Little Shop of Horrors (1986)
Friday, Oct. 20
10:30 a.m. EDT/PDT – Miss Peregrine's Home for Peculiar Children
1:30 p.m. EDT/PDT – Bewitched (2005)
3:30-8:00 p.m. EDT/PDT – Family Guy episodes
8:00 p.m. EDT/PDT – Aladdin (2019)
12:00 a.m. EDT/PDT – Bewitched (2005)
Saturday, Oct. 21
7:00 a.m. EDT/PDT – Twitches
9:00 a.m. EDT/PDT – Twitches Too
11:00 a.m. EDT/PDT – ZOMBIES
1:00 p.m. EDT/PDT – ZOMBIES 2
3:00 p.m. EDT/PDT – The Haunted Mansion (2003)
5:05 p.m. EDT/PDT – Hocus Pocus
7:15 p.m. EDT/PDT – Hotel Transylvania
9:20 p.m. EDT/PDT – Hotel Transylvania 3: Summer Vacation
11:30 p.m. EDT/PDT – Little Shop of Horrors (1986)
1:30 a.m. EDT/PDT – Family Guy
Sunday, Oct. 22
7:00 a.m. EDT/PDT – Halloweentown
9:10 a.m. EDT/PDT – Halloweentown II: Kalabar's Revenge
11:10 a.m. EDT/PDT – Halloweentown High
1:10 p.m. EDT/PDT – Return to Halloweentown
3:20 p.m. EDT/PDT – Hotel Transylvania
5:25 p.m. EDT/PDT – Hotel Transylvania 3: Summer Vacation
7:35 p.m. EDT/PDT – Encanto – Freeform Premiere
9:45 p.m. EDT/PDT – Hocus Pocus
11:55 p.m. EDT/PDT – Shrek Forever After
Monday, Oct. 23
10:30 a.m. EDT/PDT – ZOMBIES
12:35 p.m. EDT/PDT – Twitches
2:40 p.m. EDT/PDT – Twitches Too
4:40 p.m. EDT/PDT – Shrek Forever After
6:45 p.m. EDT/PDT – Hotel Transylvania
8:50 p.m. EDT/PDT – Hocus Pocus
12:00-2:00 a.m. EDT/PDT – The Simpsons: Treehouse of Horror episodes
Tuesday, Oct. 24
10:30 a.m. EDT/PDT – Family Guy
11:00 a.m. EDT/PDT – Frankenweenie (2012)
1:00 p.m. EDT/PDT – Miss Peregrine's Home for Peculiar Children
4:00 p.m. EDT/PDT – Hotel Transylvania
6:05 p.m. EDT/PDT – Tim Burton's The Nightmare Before Christmas
7:45 p.m. EDT/PDT – Cruella
12:00-2:00 a.m. EDT/PDT – The Simpsons: Treehouse of Horror episodes
Wednesday, Oct. 25
10:30 a.m. EDT/PDT – Family Guy episodes
11:30 a.m. EDT/PDT – Miss Peregrine's Home for Peculiar Children
2:30 p.m. EDT/PDT – Bewitched (2005)
4:30 p.m. EDT/PDT – The Craft (1996)
7:00 p.m. EDT/PDT – Goosebumps 2: Haunted Halloween
9:00 p.m. EDT/PDT – The Haunted Mansion (2003)
12:00-2:00 a.m. EDT/PDT – The Simpsons: Treehouse of Horror episodes
Thursday, Oct. 26
10:30 a.m. EDT/PDT – Family Guy episodes
11:30 a.m. EDT/PDT – Bewitched (2005)
1:35 p.m. EDT/PDT – The Craft (1996)
4:05 p.m. EDT/PDT – Goosebumps 2: Haunted Halloween
6:10 p.m. EDT/PDT – Maleficent: Mistress of Evil
8:50 p.m. EDT/PDT – Hocus Pocus
12:00-2:00 a.m. EDT/PDT – The Simpsons: Treehouse of Horror episodes
Friday, Oct. 27
10:30 a.m. EDT/PDT – The Amazing Spider-Man (2012)
1:30 p.m. EDT/PDT – The Amazing Spider-Man 2 (2014)
4:30 p.m. – 11:00 p.m. EDT/PDT – Family Guy episodes
12:00-2:00 a.m. EDT/PDT – The Simpsons: Treehouse of Horror episodes
Saturday, Oct. 28
7:00 a.m. EDT/PDT – Halloweentown
9:05 a.m. EDT/PDT – Halloweentown II: Kalabar's Revenge
11:05 a.m. EDT/PDT – Halloweentown High
1:05 p.m. EDT/PDT – Frankenweenie (2012)
3:05 p.m. EDT/PDT – Shrek Forever After
5:10 p.m. EDT/PDT – Monsters, Inc. (Disney-Pixar)
7:15 p.m. EDT/PDT – Monsters University (Disney-Pixar)
9:45 p.m. EDT/PDT – Hocus Pocus
11:55 p.m. EDT/PDT – Hotel Transylvania
Sunday, Oct. 29
7:00 a.m. EDT/PDT – ZOMBIES
9:00 a.m. EDT/PDT – ZOMBIES 2
11:00 a.m. EDT/PDT – Shrek Forever After
1:00 p.m. EDT/PDT – Scared Shrekless
1:30 p.m. EDT/PDT – Tim Burton's The Nightmare Before Christmas 30th Anniversary
3:10 p.m. EDT/PDT – The Haunted Mansion (2003)
5:15 p.m. EDT/PDT – Hotel Transylvania
7:20 p.m. EDT/PDT – The Addams Family (1991)
9:25 p.m. EDT/PDT – Addams Family Values
11:30 p.m. EDT/PDT – The Craft (1996)
Monday, Oct. 30
10:30 a.m. EDT/PDT – The Craft (1996)
1:00 p.m. EDT/PDT – Hocus Pocus
3:00 p.m. EDT/PDT – The Addams Family (1991)
5:00 p.m. EDT/PDT – Addams Family Values
7:00 p.m. EDT/PDT – Hotel Transylvania
9:00 p.m. EDT/PDT – Hotel Transylvania 3: Summer Vacation
12:00-2:00 a.m. EDT/PDT – The Simpsons: Treehouse of Horror episodes
Tuesday, Oct. 31
10:30 a.m. EDT/PDT – Family Guy
11:00 a.m. EDT/PDT – Hocus Pocus
1:00 p.m. EDT/PDT – The Haunted Mansion (2003)
3:00 p.m. EDT/PDT – Tim Burton's The Nightmare Before Christmas
4:35 p.m. EDT/PDT – Hotel Transylvania
6:40 p.m. EDT/PDT – Hotel Transylvania 3: Summer Vacation
8:50 p.m. EDT/PDT – Hocus Pocus
12:00-2:00 a.m. EDT/PDT – The Simpson: Treehouse of Horror episodes
---