by August 10, 2023August 10, 2023 1:43 pm EDT
|
Disney has announced that it is raising the prices for the ad-free tiers of Disney Plus and Hulu, but they will now encourage you to bundle.
The prices increases for the most popular streaming services have been inevitable, and the latest announcement will hit both Disney Plus and Hulu viewers. Beginning Oct. 12, Disney Plus' ad-free tier will increase from $10.99 to $13.99. Hulu's ad-free tier will also go up by $3, jumping from $14.99 to $17.99 a month. However, if you subscribe to both, there will be a new Duo Premium bundle that will get you both ad-free tiers for $19.99 a month beginning Sept. 6.
Here is what all of the various bundles will look like beginning this fall.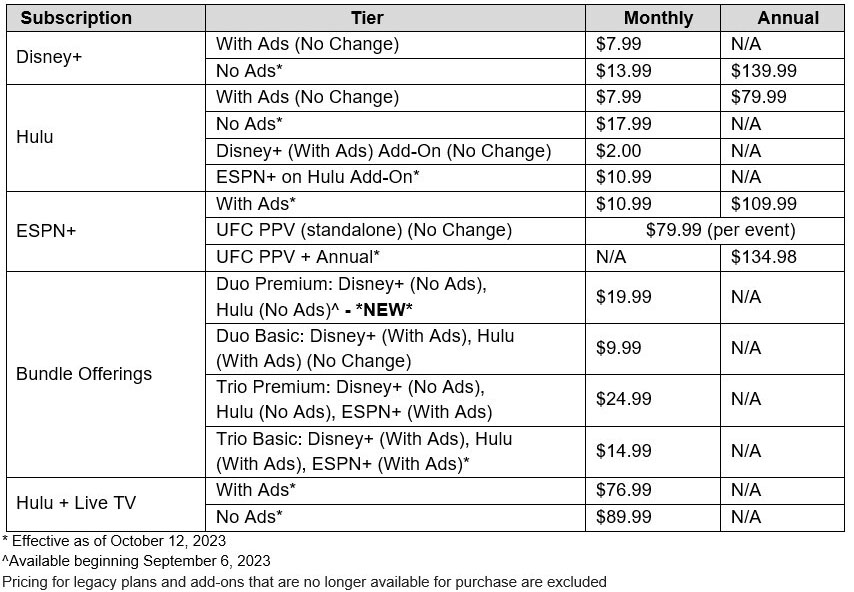 If you're surprised by there being no increase to the "With Ads" tiers, there's a reason for that. The customers on those tiers are actually making the companies more money than those paying for the ad-free tiers. Making those tiers that much more enticing is something we're going to be seeing a lot more of in the coming years.
Disney CEO Bob Iger has also announced that the company is going to get more aggressive about cracking down on password sharing. He said that the company is "actively exploring ways to address account sharing and the best options for paying subscribers to share their accounts with friends and family. Later this year, we will begin to update our subscriber agreements with additional terms and our sharing policies, and we will roll out tactics to drive monetization sometime in 2024."
This comes as no surprise as Netflix has done the same globally in the past few months.
---