by March 2, 2019March 2, 2019 7:30 am EST
|
Welcome to an exciting year-long project here at The Nerdy. 1984 was an exciting year for films giving us a lot of films that would go on to be beloved favorites and cult classics. Imagine a world where Children of the Corn and Splash hit theaters on the same day. That is the world of 1984.
We're going to pick and choose which movies we hit, but right now the list stands at nearly three dozen.
Yes, we're insane, but 1984 was that great of a year for film.
The articles will come out on the same day the films hit theaters in 1984 so that it is their true 35th anniversaries. All films are also watched again for the purposes of these reviews and are not being done from memory.
This time around it's March 2, 1984, and we're off to see Repo Man and This is Spinal Tap.
Repo Man Review
Repo Man is one of those films from the 1980s that decided taking potshots at consumerism was all the rage. And in this film it somewhat works. While other films swung for the fences by suggesting people had too much money, Repo Man pulls it back in such subtle ways that at one point Otto (Emilio Estevez) is eating out of a can simply labeled "Food." Somehow the concept that the simple act of purchasing food, something we all need, is an act of consumerism is impactful.
Oh yeah, and the movie also has something to do with aliens, time travel, and government conspiracies.
To say Repo Man is all over the place would be an understatement. And in some ways, just like so many films of the 1980s took jabs at our mass consumerism of the time, that was a hallmark of the films of this decade. You could take risks and break out of the molds, and that is a common trend we'll see through out this series is films of 1984 just not really caring what people thought of them. Sure, they all wanted to make money, but if they could have some fun along the way and upset the status quo, they were going to do it.
It's a fun movie, and it ranks up there on the cult classics list of films, but we certainly wouldn't say you should expect it to change your life. If it comes down to this film or something such as our next film, This is Spinal Tap, then go with Spinal Tap. But if you've seen everything else, you might as well.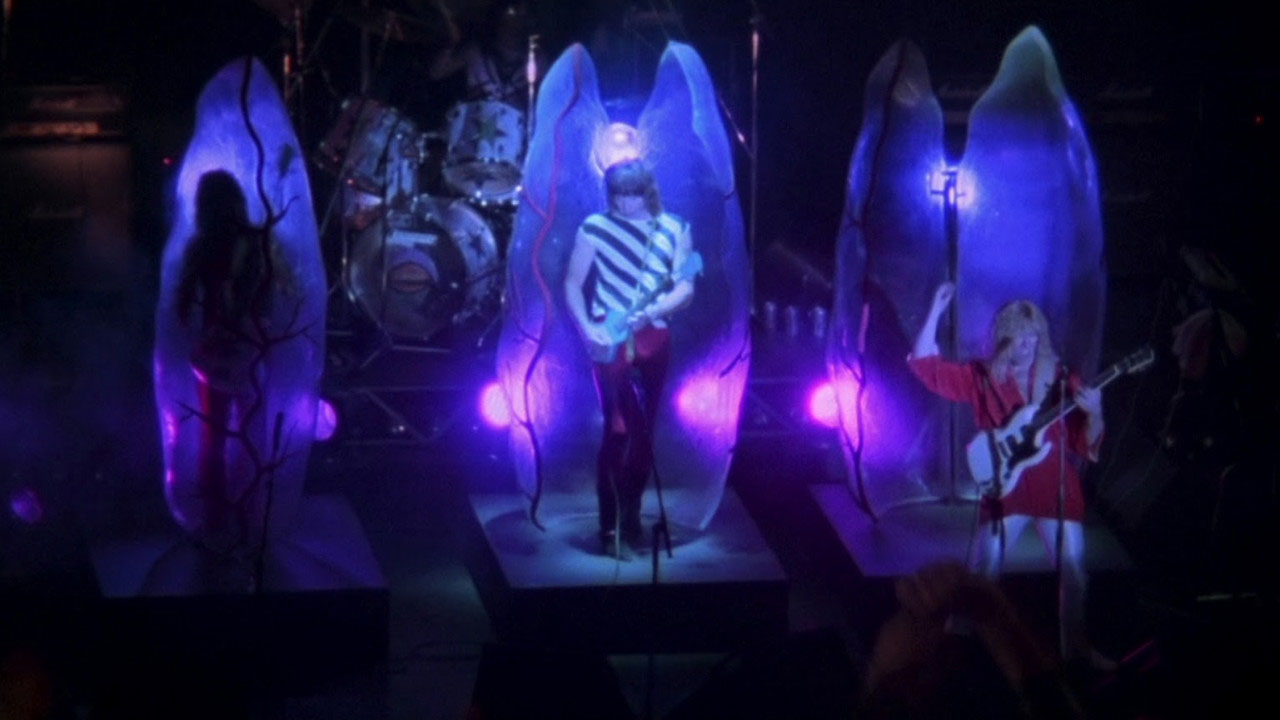 This is Spinal Tap
This may be one of the hardest "I will watch this with fresh eyes" reviews of this entire project as I've seen this film so many times.
While This is Spinal Tap didn't create the mockumentary film genre, it is probably the film most closely associated with it. It is the example that pops into anyone's head when you mention the style, and that puts any film a rarified air.
Set in 1982, Marty Di Bergi (Rob Reiver) sets out to document the first U.S. tour by British rock band Spinal Tap in years. He follows the trials and tribulations of David St. Hubbins (Michael McKean), Nigel Tufnel (Christopher Guest), and Derek Smalls (Harry Shearer) as they fumble their way through life. From not being able to handle directions to being completely perplexed by cocktail bread, the boys in the band are lucky they haven't somehow met their demise yet.
While there is a through story of the film about the release of the band's latest album and how the tour is not enjoying the success of previous ones, there is also a feeling somewhat of sketch comedy. That isn't to suggest the scenes are weaker or less funny, but there are one or two – most notably "these go to 11" – that feel like they are a slightly different tone. This is something that I think was smoothed out some over the years, but it is worth noting.
This is a film that if you haven't seen it, there is just really no excuse not to. It has become so deeply ingrained in the zeitgeist of the world, that you probably hear a reference to it at least one day. As someone who has worked more trade shows and conventions then I care to count, I can't even hazard a guess how many times I've yelled, "Hello Cleveland!" while walking through the docking bays of facilities.
The 1980s were a strong time for comedies, and this was one of the best. It was even selected for preservation by the United States National Film Registry. That shouldn't really sway your choice in viewing this film, but every little bit helps.
1984 Movie Reviews will return on March 9 with Children of the Corn and Splash!
TechnoBuffalo LLC (dba TheNerdy.com) has affiliate partnerships with various companies. These do not at any time have any influence on the editorial content of The Nerdy. TechnoBuffalo LLC may earn a commission from these links.
---