by April 1, 2023April 1, 2023 10:30 am EDT
|
Welcome to an exciting year-long project here at The Nerdy. 1983 was an exciting year for films giving us a lot of films that would go on to be beloved favorites and cult classics. It was also the start to a major shift in cultural and societal norms, and some of those still reverberate to this day.
We're going to pick and choose which movies we hit, but right now the list stands at nearly four dozen.
Yes, we're insane, but 1983 was that great of a year for film.
The articles will come out – in most cases – on the same day the films hit theaters in 1983 so that it is their true 40th anniversary. All films are also watched again for the purposes of these reviews and are not being done from memory. In some cases, it truly will be the first time we've seen them.
This time around, it's April 1st, 1983, and we're off to see Heart Like a Wheel and Screwballs!
Quick side note: Since we launched this series this year, we've discovered that Vintage Video Podcast is doing the exact same project with two differences: First, it's audio (naturally), and second, they are doing every major film. We've listened to numerous episodes and it's fun checking off their thoughts against my own. Check them out over at Vintage Video Podcast.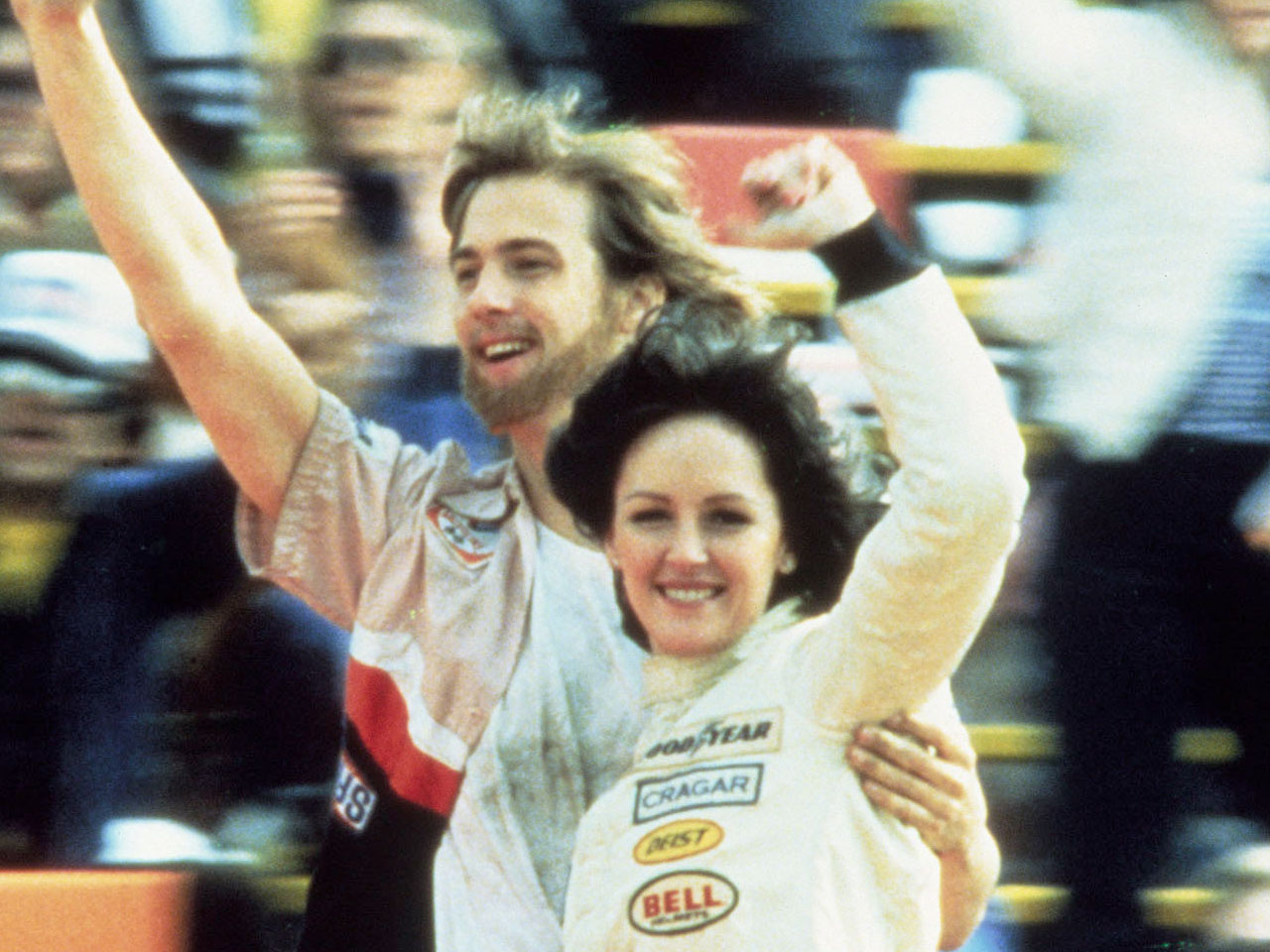 Heart Like a Wheel
This is one of those stories that I'm surprised I had almost forgotten about. I remember seeing this movie years ago, but a lot of it came back as soon as I saw I was going to be watching it this year.
Shirley Muldowney (Bonnie Bedelia) became not only the most-winning female in drag race history, but also one of its most-winning drivers. Byt as with just about any story like this, it wasn't a straight line or easy road to haul. Considering she started her professional racing career in the 1960s, it goes without saying that the male-dominated sport was not the most welcoming.
While Muldowney's story is an intriguing one, the movie is, sadly, just flat. Nothing is groundbreaking here. It feels paint-by-numbers in its structure, and just leaves you cold. It's no wonder I forgot about the story as the movie is just completely forgettable. Bedelia is fine in the lead role, and I really had no complaints with anyone in the film.
It really comes down to there is never any sense of speed or power. You're dealing with cars built for the quarter mile, and while they didn't have the filming tech we do today, there would have still been ways to pull this off. Additionally, Muldowney changed classes of cars multiple times throughout her career, but yet the film never explains why. It came off as, "I saw a shiny new car, now that's what I want to drive." We didn't need schematics of the cars, but just some general knowledge would have gone a long way to giving us more insight into her as a person.
Watch for the broad strokes of the story, but you definitely don't have to pay a lot of attention.
Screwballs
Last week I talked about how bad Spring Break was. Well, I just hadn't seen Screwballs yet.
Five 'kids' at Taft and Adams High School (T&A High School… get it?!?) set out to see the breasts of Purity Bush, the purest girl in school.
I really can't go on. This movie wanted to Porky's in the worst possible way and it just failed miserably. That film at least made you laugh, and this was just absolute dreck. Nothing was funny about it, it was just sad and felt excruciatingly long, but yet it was only 80 minutes.
I will quote myself from last week, "Even by teen sex comedies of the 1980s standards, this one was pretty bad. I am glad I never have to think of it again."
1983 Movie Reviews will return on April 8, 2023 with Flashdance!
Fun Jug Media, LLC (operating TheNerdy.com) has affiliate partnerships with various companies. These do not at any time have any influence on the editorial content of The Nerdy. Fun Jug Media LLC may earn a commission from these links.
---